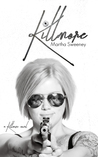 Killmore by Martha Sweeney
My rating: 5 of 5 stars
Killmore is all that and them some in the realm of suspenseful, action, and romance category. Martha Sweeney puts out that lure and once you bite and swallow that lure you are hooked and you will be fighting throughout the book until the end. But wait there is more, book two that you will want to read to get to the conclusion of the story. That is all the information you will get for book two. Now back to book one, this story is about Laurie and Aiden. Laurie has been put into witness protection. She has walls built up and is not ready to put them down as of yet. Aiden is on the FBI team that wants Laurie's assistance as she is an asset to that case. Will Laurie assist Aiden in the case? Will Aiden get Laurie to break some of the walls and see some of the positive side of Aiden? Only time will tell.
https://itsybitsybookbits.com/wp-content/uploads/2020/07/IBBB_2020_logo_sq.png
0
0
Erica Fish
https://itsybitsybookbits.com/wp-content/uploads/2020/07/IBBB_2020_logo_sq.png
Erica Fish
2018-11-19 16:05:01
2018-11-19 17:03:16
Killmore by Martha Sweeney – Review by Erica Fish