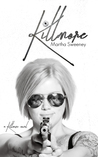 Killmore by Martha Sweeney
My rating: 5 of 5 stars
Killmore (Killmore #1) by Martha Sweeney
5 out of 5 stars
This is the first book that I have read by Ms. Sweeney. I didn't know if I hated this book or loved it but I just couldn't put it down. This story is suspenseful, action packed, with pull your hair out emotionally, intense ride and this is the story for you.
I loved Laurie she was such an amazing character with everything she has been through she doesn't trust easily and she looks over her shoulder all the time.
She knows not to look to anyone else to keep her safe she can only depend on herself. The last thing she needs a man especially a Fed. But is he the one she has to watch out for or is her past coming back to haunt her.
The characters in this book are well developed and I loved the banter with the Snarky comments that were thrown at each other they made me laugh because the comments were out of this world. I loved the way they always kept each other wanting although never giving too much away.
Can the Feds keep Laurie safe? Will Laurie be able to trust men again? Will Laurie have a happily ever after?
Like I said earlier I didn't know if I loved this book or hated it but this was a funny action pack romance with a cliffhanger. I can't wait to see what Ms. Sweeney has instore for us in book two of this series.
By Tracy Manderson
https://itsybitsybookbits.com/wp-content/uploads/2020/07/IBBB_2020_logo_sq.png
0
0
Tracy Manderson
https://itsybitsybookbits.com/wp-content/uploads/2020/07/IBBB_2020_logo_sq.png
Tracy Manderson
2018-11-28 14:12:58
2018-11-28 14:31:35
Killmore (Killmore #1) by Martha Sweeney – Review Tracy Manderson