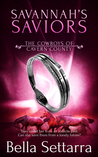 Savannah's Saviors by Bella Settarra
My rating: 4 of 5 stars
Savannah's Saviors by Bella Settarra is the fifth book in the series The Cowboys of Cavern County. Now saying it is the fifth book, this can be a stand-alone book. Bella Settarra's vivid descriptive writing style allowed me to think I am in the story with Savannah. It is like I was there looking over Bella's shoulder. She writes about a difficult situation and you can feel that in her writing. This is a contemporary western romance book, but at the beginning it was about Bella and what has happened to her. Bella meets Tom and Greg on a really bad night. She is having issues of trust and abusive relationship and she does not want that out in the open just yet. Will Bella be able to trust Tom and Greg? Will Tom and Greg trust Bella? You can find the answers in the story.
https://itsybitsybookbits.com/wp-content/uploads/2020/02/group-01-01-300x183.png
0
0
Erica Fish
https://itsybitsybookbits.com/wp-content/uploads/2020/02/group-01-01-300x183.png
Erica Fish
2018-11-11 11:19:53
2018-11-12 07:02:05
Savannah's Saviors (The Cowboys of Cavern County Book 5) by Bella Settarra - Review by Erica Fish