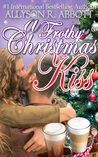 A Frothy Christmas Kiss by Allyson R. Abbott
My rating: 5 of 5 stars
I give A Frothy Christmas Kiss by Allyson R. Abbott, 5 stars.
Kat's best friend since childhood wanted to take things further than what she was ready for. She just can't see things that way and he can't seem to take no for an answer. So she decided to move away and start over. Now she is alone here, without even a best friend to confide in. When she comes across a coffee shop tucked in beside a bookstore, she is ecstatic. She loves all things coffee and she can't believe her luck. This place is just perfect! And the man behind the counter is to die for too. But he's spoken for, isn't he? So why does it seem like he's flirting with her. And what about her ex? Will she find happiness?
Ok, this book centers around coffee and a cat. Right there I'm sold! But really, it is such a fun book. Kat is great, the coffee shop cat is wonderful (I so want to see more of him!), and the rest of the characters are just as good. The story is entertaining and amusing. I thoroughly enjoyed this book and highly recommend it to those who like fun, Christmas romance stories that are just long enough to read in one setting.
Review by @erinwolf79
https://itsybitsybookbits.com/wp-content/uploads/2020/05/group-blue-01-April-2020-300x177.png
0
0
Erin Wolf
https://itsybitsybookbits.com/wp-content/uploads/2020/05/group-blue-01-April-2020-300x177.png
Erin Wolf
2018-12-12 10:06:07
2018-12-14 09:35:08
A Frothy Christmas Kiss by Allyson R. Abbott – Review by Erin Wolf