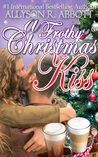 A Frothy Christmas Kiss by Allyson R. Abbott
My rating: 5 of 5 stars
I have read a few books from this talented author and she always seems to surprise me. They way she writes her characters make them come to life. I absolutely adore Christmas books. It puts a smile on my face everytime I read them. This author always exceeds my expectations with her writing. This is the fourth book in the Christmas kiss series and I hope she will put more out some day. I absolutely loved this series. I was hooked on the first chapter. It only took me a few hours to devour this incredible story.
Kat loves her coffee. She drinks it everyday and she loves to try different flavors. Kat is in heaven when she finds a little coffee shop that she never knew existed. She was drawn in by the smell but when she meets the owner she is dumbfounded. Kat is instantly attracted to him. She feels something she has never felt before. Kat gets to know Dan really well and he offers her a job of lifetime. She accepts the job but she finds out that there is a lady in Dan's life. Kat is devastated but is this all a misunderstanding? Kat also is missing her best friend. Will Kat find her happy ever after or will she spend Christmas alone for the first time?
I absolutely loved this book. The storyline has it all romance, humor, and love. This story will get you into the holiday spirit. You can't help but to fall in love with these characters. Kat is a sweetheart that what to find her own way. She wants to fairytale ending like every girl wants. Dan is a very handsome man with a great heart. He feels this attraction to Kat and he treats her like a princess. This is a fun and uplifting story that will make you feel happy. I hope this talented author will continue this amazing series.
https://itsybitsybookbits.com/wp-content/uploads/2020/07/IBBB_2020_logo_sq.png
0
0
Heather Bass
https://itsybitsybookbits.com/wp-content/uploads/2020/07/IBBB_2020_logo_sq.png
Heather Bass
2018-12-23 16:47:37
2018-12-23 18:27:48
A Frothy Christmas Kiss by Allyson R. Abbott – Review by Heather Bass