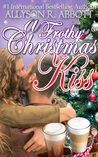 A Frothy Christmas Kiss by Allyson R. Abbott
My rating: 5 of 5 stars
A Frothy Christmas Kiss by Allyson R. Abbott is a five star novel. Even though this is the fourth book in the series, it is a standalone. The series only is a series because they are short, happy Christmas stories. This series has been a lot of fun to read and really helped to put me in the Christmas spirit. When the season starts, not all of us are ready, not all of us are happy for it to be here and not all of us enjoy the season as much as others. When trials happen in our lives, it is sometimes difficult to put that on the back burner and still be able to find the joy of Christmas. I feel this series tries to show that in a tangible way. When Kay moves away from home, she finds herself lonely and without her best friend. She finds a hole in the wall coffee shop and quickly finds her place there but because of a misunderstanding is having a difficult time being content. As the book progresses, we find out more about each of the characters and helps to bring them all together. Brian's story was my favorite part of the whole book!
Re use by @julie-lounello
https://itsybitsybookbits.com/wp-content/uploads/2020/07/IBBB_2020_logo_sq.png
0
0
Julie Lounello
https://itsybitsybookbits.com/wp-content/uploads/2020/07/IBBB_2020_logo_sq.png
Julie Lounello
2018-12-23 14:06:52
2018-12-23 18:20:43
A Frothy Christmas Kiss by Allyson R. Abbott – Review by Julie Lounello