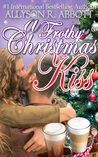 A Frothy Christmas Kiss by Allyson R. Abbott
My rating: 5 of 5 stars
The Christmas Kiss series has really been a highlight of my Christmas season this year. I think one of the things that I have really enjoyed is that these novels really have embraced that wholesome and magical feeling that you get when you sit down and watch a Hallmark movie at Christmas with the family. For me I will be happy to share these next season with my pre-teen. I must say though 'A Frothy Christmas Kiss' may just have to be my favorite Christmas kiss yet. This one seems to be a bit more relatable for me, maybe that is why, probably the only one I would think my daughter would find more boring at a younger age level. Anywho, I must say I really hope to see more of the Christmas novels in the future from Allyson R. Abbott. I love all of her work that I have read, but her holiday stuff is just too darn perfect! 'A Frothy Christmas Kiss' is the story of Kat and Dan, so brew up a cup of your favorite joe and curl up with your favorite blankie. You will adore you time finding out how these two discover the magic of Christmas and love once again.
Review by @lizaileen
View all my reviews
https://itsybitsybookbits.com/wp-content/uploads/2020/05/group-blue-01-April-2020-300x177.png
0
0
Liz Vrchota
https://itsybitsybookbits.com/wp-content/uploads/2020/05/group-blue-01-April-2020-300x177.png
Liz Vrchota
2018-12-15 22:40:36
2018-12-16 06:42:24
A Frothy Christmas Kiss by Allyson R. Abbott ~ Review by Liz Vrchota