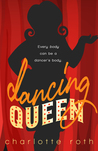 Dancing Queen by Charlotte Roth
My rating: 5 of 5 stars
"Dancing Queen" by Charlotte Roth is a wonderful story about Fiona, a stuck in a rut, overweight 30 something who makes a fast friend out of Stu, a scary skinny man in her office that she meets through some awkward circumstances. Together, this unlikely pair help each other come alive again as they take on a new hobby. I don't know what I was expecting while I was reading this book, but Charlotte Roth really caught me off guard! I was expecting your generic fat girl finds love story (Not that there is anything wrong with that, those stories make me feel better about my round shape!) but this story is so much more. I loved reading about Fiona's journey with food and the friends that help build her up. The characters in this story are (mostly) amazing characters that I would love to have as real life friends! The ones that aren't amazing, felt exactly like people I have in my own life, which broke my heart a little for Fiona. However, this brave woman is no punching bag! Fiona is such a strong, loveable character whom anyone can admire. There is a bit of a twist at the end that literally made me immediately start crying and make a weird emotional noise when I read it because it was so beautiful! So, I give "Dancing Queen" an obvious five stars! Charlotte Roth truly earned them, so do yourself a favor and read this book already!!
Reviewed by @emilybee430
View all my reviews
https://itsybitsybookbits.com/wp-content/uploads/2020/07/IBBB_2020_logo_sq.png
0
0
Emily Brockschmidt
https://itsybitsybookbits.com/wp-content/uploads/2020/07/IBBB_2020_logo_sq.png
Emily Brockschmidt
2019-03-11 10:54:29
2019-03-11 10:58:16
Dancing Queen By Charlotte Roth- Review by Emily Brockschmidt