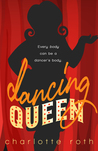 Dancing Queen by Charlotte Roth
My rating: 5 of 5 stars
5 Star
Dancing Queen By Charlotte Roth is very heartwarming yet inspirational story that I loved reading. I couldn't put it down till the end. Some parts had my emotions all over the place. Fiona and Stu had me feeling like I was on an emotional rollercoaster ride with up and downs and a twist or two.i can relate to Fiona and her struggles and its definitely hard.But Stugives her hope.What happens when she's talked into entering a dance competition? I highly recommend reading this book especially if you want to know what happens next. I can't wait to read more from this Author.
https://itsybitsybookbits.com/wp-content/uploads/2020/07/IBBB_2020_logo_sq.png
0
0
Dawn Daughenbaugh
https://itsybitsybookbits.com/wp-content/uploads/2020/07/IBBB_2020_logo_sq.png
Dawn Daughenbaugh
2019-03-11 23:00:38
2019-03-12 10:36:45
Dancing Queen By Charlotte Roth – Review by Dawn Daughenbaugh