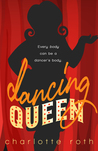 Dancing Queen by Charlotte Roth
My rating: 5 of 5 stars
Dancing Queen by Charlotte Roth
5 Stars
Ok so I totally loved this book. It hit some emotions I had buried long ago and I was totally able to relate to Fiona, which just made me enjoy the book that much more.
I loved the characters even the ones I loved to dislike immensely, I wanted to slap a couple along the way, especially that sister, and the Mom at some points. I loved how this story progressed and the strength that ensued by Fiona as the book went on, Lance became one of my favorites towards the end and totally made me smile and that other little twist at the end totally threw me and actually made me tear up.
I've read a few books by this author and I am in love with her writing style, I love knowing when I pick one of her books up that I never really know what I'm going to be reading, which always means a one click for me.
I highly recommend this story and I just know you will fall in love with Fiona and Stu just as I did.
Can't wait for more from this author.
https://itsybitsybookbits.com/wp-content/uploads/2020/07/IBBB_2020_logo_sq.png
0
0
Debi Kircher
https://itsybitsybookbits.com/wp-content/uploads/2020/07/IBBB_2020_logo_sq.png
Debi Kircher
2019-03-10 08:03:59
2019-03-12 08:26:16
Dancing Queen by Charlotte Roth – Review by Debi Kircher