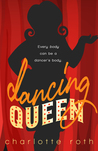 Dancing Queen by Charlotte Roth
My rating: 5 of 5 stars
I loved this book!! This was such a wonderful, easy to read story and I absolutely fell in love with the characters Fiona and Stu! I felt like I could really connect with Fiona, the way in which the author write about her made her feel like she was real. I really felt like I wanted to be there on the side lines cheering her along every step of the way. I was truly inspired by Fiona, her story and her outlook on life. The author cleverly intertwined funny with emotion and explored situations that made you think about how society view and judge people all the time based on what they look like.
I have read a few books by this author now and I do love her fun and quirky writing style. Her stories are entertaining to read and I 100 % recommend them!
https://itsybitsybookbits.com/wp-content/uploads/2020/07/IBBB_2020_logo_sq.png
0
0
Katie Matthews
https://itsybitsybookbits.com/wp-content/uploads/2020/07/IBBB_2020_logo_sq.png
Katie Matthews
2019-03-11 09:02:34
2019-03-11 09:05:39
Dancing Queen by Charlotte Roth – Review by Katie Matthews