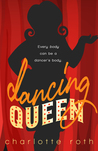 Dancing Queen by Charlotte Roth
My rating: 5 of 5 stars
Dancing Queen by Charlotte Roth is a five star novel. This book was a fantastic, quick read. I loved the pace of this book and how life for Fiona changes. I love that the job she has has a program to try to help people with their health issues. Whether that is being too heavy or to thin, they have a support group for both at the same time. When Fiona decides to go to group, she is told she needs to find a hobby and that quilting is a great one. After another coworker is encouraged to go to group too, he decides they should join a dancing competition. Fiona just laughs. How could she possibly join a dancing competition when she looks the way she does? She's been told her whole life that she was too fat to follow her dream of becoming a dancer. Now that she is thirty-five, she really knows she isn't qualified but skinny Stu is relentless and insists she join with him.
https://itsybitsybookbits.com/wp-content/uploads/2020/07/IBBB_2020_logo_sq.png
0
0
Julie Lounello
https://itsybitsybookbits.com/wp-content/uploads/2020/07/IBBB_2020_logo_sq.png
Julie Lounello
2019-03-11 21:27:01
2019-03-11 22:02:31
Dancing Queen by Charlotte Roth – Review by Julie Lounello