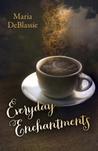 Everyday Enchantments by Maria F. DeBlassie
My rating: 4 of 5 stars
Everyday Enchantments: Musings on Ordinary Magic & Daily Conjurings is the first I have ready by Maria DeBlassie. It is a collection of essays with varying topics, but all with the same underlying theme. They remind us to enjoy the little things in life, savor the moments, conversations, memories, etc. They read like blog entries, each able to be read individually. Her writing style is unlike any I have read before. She is very descriptive and deep at times, and the book brings out feelings that I didn't think was possible. The stories are vivid, and you live them with her. Great collection and reminder to stop and smell the roses every once in a while. Don't take life for granted.
Reviewed by @way2gosmartguy
https://itsybitsybookbits.com/wp-content/uploads/2020/07/IBBB_2020_logo_sq.png
0
0
Elizabeth Sanchez
https://itsybitsybookbits.com/wp-content/uploads/2020/07/IBBB_2020_logo_sq.png
Elizabeth Sanchez
2019-03-30 22:30:22
2019-03-31 02:06:10
Everyday Enchantments: Musings on Ordinary Magic & Daily Conjurings by Maria DeBlassie – Review by Elizabeth Sanchez