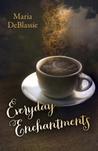 Everyday Enchantments by Maria F. DeBlassie
My rating: 5 of 5 stars
This is the perfect companion book for the person who loves to get lost in nature. Finding joy and peace can be difficult in this day and age but one of my favorite activities is sitting on my porch with a cup of coffee in the morning and just listening. The serenity I can find for a few moments in the silence of the early morning is exactly the kind of thing this book is about. You don't need to participate in any particular religion or lack thereof to appreciate what Maria DeBlassie has put together. While her particular flavor is Southwest USA, anyone from anywhere can gain perspective or at least find instances to appreciate the magic in everyday life.
The only thing I dislike about this book is Maria's view of the myth of Persephone. I know it's a weird thing to pick out and it's only like one sentence in the entire book but it is literally the only thing I didn't enjoy.
https://itsybitsybookbits.com/wp-content/uploads/2020/05/group-blue-01-April-2020-300x177.png
0
0
Emma Morreale
https://itsybitsybookbits.com/wp-content/uploads/2020/05/group-blue-01-April-2020-300x177.png
Emma Morreale
2019-03-10 21:04:21
2019-03-10 21:38:51
Everyday Enchantments: Musings on Ordinary Magic & Daily Conjurings by Maria F. DeBlassie – Review by Emma Morreale