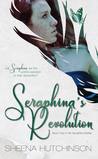 Seraphina's Revolution by Sheena Hutchinson
My rating: 5 of 5 stars
Seraphina's Revolution is the fourth book in the Seraphina's series. You will want to read books one through three because those books lead up to this one. It is always bitter sweet when you read the last book in a series because you feel the journey is over but you are also satisfied because the characters have played out their role in the book. This book is about Seraphina and her quest to get her normal life and not such a chaotic journey. Seraphina has been through hell and back in order to get this normal life, only to have Lucifer take it away to evoke the evil that dwells within her soul. There needs to be one last battle to end all the battles, but will it take more than Seraphina can handle? Will Nate be with Seraphina or will Lucifer take him away from her? Thank you again Ms. Hutchinson I cannot wait to see your next series.
https://itsybitsybookbits.com/wp-content/uploads/2020/07/IBBB_2020_logo_sq.png
0
0
Erica Fish
https://itsybitsybookbits.com/wp-content/uploads/2020/07/IBBB_2020_logo_sq.png
Erica Fish
2019-03-26 19:25:50
2019-03-26 23:20:18
Seraphina's Revolution (The Seraphina Series Book 4) by Sheena Hutchinson – Review by Erica Fish