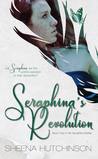 Seraphina's Revolution by Sheena Hutchinson
My rating: 5 of 5 stars
Seraphina's Revolution is the fourth book in Sheena Hutchinson's exciting Seraphina series. It continues the story of angels and demons, of prophecies and battles.
As the book begins, Seraphina's been getting a handle on the immense power she yields. She's able to balance and control it, more or less. But it's not long before she's thrown off balance and is again struggling to keep herself from using her powers for the wrong thing.
Dreams are used a lot, in different ways. I like the dream scenes as they break up the story and give us glimpses into the story ahead and the characters' mindsets. They're vividly described, as is the rest of the book!
As well as continuing the story chronologically, Seraphina's Revolution fills in gaps and information about the past. It's very satisfying to read!
For me, this is a five star book. I like this series a lot, and would recommend starting at the beginning. It's great if you like action-packed fantasy – I think it would particularly appeal to fans of Buffy the Vampire slayer with its vivid action and training scenes and "chosen one" story arc.
https://itsybitsybookbits.com/wp-content/uploads/2020/05/group-blue-01-April-2020-300x177.png
0
0
Francis O'Sullivan
https://itsybitsybookbits.com/wp-content/uploads/2020/05/group-blue-01-April-2020-300x177.png
Francis O'Sullivan
2019-03-26 15:25:56
2019-03-26 23:00:38
Seraphina's Revolution (The Seraphina Series Book 4) by Sheena Hutchinson – Review by Francis O'Sullivan