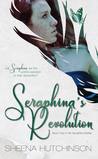 Seraphina's Revolution by Sheena Hutchinson
My rating: 5 of 5 stars
Seraphina's Revolution is the fourth book in the Seraphina series. I recommend reading the previous books in this series before starting this one so you know what is going on and what has led up to this point in the story.
All I can say is wow! This story is full of twists and turns. With the weight of being the one who is destined to save the world resting heavily on her shoulders, Seraphina has to navigate the new challenges thrown her way. As things heat up, Seraphina must make alliances, but she doesn't know who to trust. Placing her trust in the wrong person could mean the end of everything, literally. And side note—why are there always demon spiders, lol??? *shudders*
This is the final book in this series, but if you read the epilogue, you have to wonder if another series could come out of it. I mean, why?????? Why would you leave it like that, lol!!!!!
I absolutely loved reading this series.
https://itsybitsybookbits.com/wp-content/uploads/2020/05/group-blue-01-April-2020-300x177.png
0
0
Naomi McDonald
https://itsybitsybookbits.com/wp-content/uploads/2020/05/group-blue-01-April-2020-300x177.png
Naomi McDonald
2019-03-24 08:50:29
2019-03-24 22:40:50
Seraphina's Revolution (The Seraphina Series Book 4) by Sheena Hutchinson – Review by Naomi McDonald