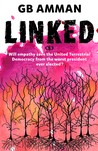 Linked by Gaia B. Amman
My rating: 4 of 5 stars
I have had the pleasure of reading novels from Gaia b. Amman before Linked, but this was truly a different experience altogether than anything I think I have ever truly picked up. Not only from a sci-fi point of view, but from the political view as well. Normally these are things I tend to not pick up as choice contenders in general but like I said I have read Amman before and loved her novels up until now so when the title peaked my interest I had to dive in to find out what was behind the cover. I am glad that I did. It was a tad confusing at first but once I got into the swing of the writing I was hooked and truly loved the underlying messages that was being put forth. I think that this is definitely something that people would really find a relief in the current political climate that we are in right now. I know I did, and from reading the author's notes it seems this was therapeutic to write this novel too. I can't wait to see what we will get next from Ms. Amman!
Review by @lizaileen
View all my reviews
https://itsybitsybookbits.com/wp-content/uploads/2020/07/IBBB_2020_logo_sq.png
0
0
Liz Vrchota
https://itsybitsybookbits.com/wp-content/uploads/2020/07/IBBB_2020_logo_sq.png
Liz Vrchota
2019-04-04 18:31:03
2019-04-04 19:27:48
Linked: Can Empathy Save the United Terrestrial Democracy? by Gaia B. Amman – Review by Liz Vrchota