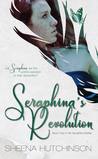 Seraphina's Revolution by Sheena Hutchinson
My rating: 5 of 5 stars
Seraphina's Revolution was a great 5 star read and book 4 in the Seraphina series.
I was excited to read how the last book in the series was going to play out and I wasn't disappointed.
Seraphina has some amazing powers in this book. Things get a little darker as well. Nate is there as a support for Seraphina, sort of an anchor for her. But will he always be there? What will happen when war starts?
There is so much more to this book that I really can't give much more, without ruining it for the reader. We have on the edge of your seat action and a heck of an ending that will leave you in shambles. The secondary characters added a great element to the story as well. This series really needs to be read in order so that you can follow the story from the beginning. This is a must read series that follows and grows with Seraphina. 1-click and get started right away.
Reviewed by @mab54615
View all my reviews
https://itsybitsybookbits.com/wp-content/uploads/2020/07/IBBB_2020_logo_sq.png
0
0
Michelle Austin
https://itsybitsybookbits.com/wp-content/uploads/2020/07/IBBB_2020_logo_sq.png
Michelle Austin
2019-04-02 20:33:11
2019-04-02 21:20:59
Seraphina's Revolution (The Seraphina Series Book 4) by Sheena Hutchinson – Review by Michelle Austin