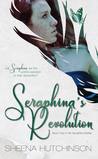 Seraphina's Revolution by Sheena Hutchinson
My rating: 5 of 5 stars
Seraphina's revolution is book 4 in the Seraphina series by Sheena Hutchinson and what a book it is. This series is a must read and read them in order it will not disappoint. In Seraphina's Revolution is a wonderful way to end the series in this book Seraphina has come to fight and sacrifice and she don't disappoint. Over the last 4 books going through this journey with Seraphina was wonderful she is one of my all time favorites and I really hated for this book to end. I really hope in the future I can read more about her and her life. Thank you Sheena Hutchinson for writing an amazing book and having me fall in love with your work I look forward to reading more book by you.
https://itsybitsybookbits.com/wp-content/uploads/2020/07/IBBB_2020_logo_sq.png
0
0
Stephanie Dulac
https://itsybitsybookbits.com/wp-content/uploads/2020/07/IBBB_2020_logo_sq.png
Stephanie Dulac
2019-04-16 18:35:48
2019-04-16 20:02:31
Seraphina's Revolution (The Seraphina Series Book 4) by Sheena Hutchinson – Review by Stephanie Dulac