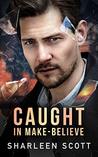 Caught in Make-Believe by Sharleen Scott
My rating: 5 of 5 stars
Caught In Make Believe is the 3rd book in the Caught Series by Sharleen Scott. Each book in this series can be read as a stand-alone. As characters from the previous books appear in subsequent books, and the fact that this series is fantastic, I would recommend that you read the whole series from the beginning and read them in order to get maximum enjoyment.
Sharleen Scott writes amazing gripping romantic thrillers. Having loved the first 2 books in this series I couldn't wait to read this one and I was certainly not disappointed. I devoured this book in a few hours, I just couldn't put it down.
I loved that we got snippets of Clay and Harlie, and also Tom and Tallie from the previous books but I just loved Jace and Samantha's story. Both are broken and have troubled pasts and neither of them are looking for a relationship. Jace is still coming to terms with the murder of his wife 5 years before and Samantha is just out of a broken engagement. Both are amazing characters that you can't help but fall in love with and you are rooting for them to get their HEA.
However in true Sharleen Scott fashion, nothing runs smoothly. Jace's wife's killer is still at large and has found him. This puts Jace and everyone he loves at risk. The author does a fantastic job of building up the tension and leaving you on the edge of your seat right up to a climactic finale.
I'm seriously praying that this is not the end of the Caught series as I'd really love to read more.
Reviewed by @kazbo5771
https://itsybitsybookbits.com/wp-content/uploads/2020/07/IBBB_2020_logo_sq.png
0
0
Karyn Taylor
https://itsybitsybookbits.com/wp-content/uploads/2020/07/IBBB_2020_logo_sq.png
Karyn Taylor
2019-02-19 12:51:03
2019-02-19 13:11:42
Caught in Make Believe (The Caught Series Book 3) by Sharleen Scott – Review by Karyn Taylor