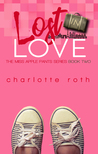 Lost in Love: Miss Apple Pants by Charlotte Roth
My rating: 5 of 5 stars
Lost in Love: Miss Apple Pants by Charlotte Roth
5-stars
Lost in Love: Miss Apple Pants is another 5-star read by Charlotte Roth. This is the second book in the Miss Apple Pants series, and I would definitely suggest reading it in order as this book follows the same characters as the first.
I loved everything about this book, the storyline flowed seamlessly and there was plenty of detail which made everything so easy to picture in my mind. Ella's story is sweet, funny, relatable, emotional and very romantic and I hope to read more about her in the future!
I would absolutely recommend this book to anyone looking for their next read!
https://itsybitsybookbits.com/wp-content/uploads/2020/07/IBBB_2020_logo_sq.png
0
0
Kaitlynn Taylor
https://itsybitsybookbits.com/wp-content/uploads/2020/07/IBBB_2020_logo_sq.png
Kaitlynn Taylor
2019-03-11 20:09:34
2019-03-11 20:20:09
Miss Apple Pants: Lost in Love (Miss Apple Pants Series Book 2) by Charlotte Roth – Review by Kaitlynn Taylor