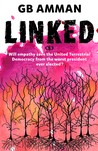 Linked by Gaia B. Amman
My rating: 5 of 5 stars
Linked: Can Empathy Save the United Terrestrial Democracy? by Gaia Amman is a sci-fi, dystopian tale. Naira is the main character and she finds out she has some special abilities. The problem is she somehow ends up having to be a team with her enemy. Can this help her accomplish her goals of eliminating the President?
This is a fantastic read that kept me reading and wanting more. I like that Amman used her biology background to help with building the story. This helped keep it grounded and not get too far out. This grounding also allowed the characters and story to be familiar on a grand scale. There are similarities that are the very clear as you are reading to current day societal issues and figures in society. The characters are kept in the gray. This is true to real life because often we are presented with gray areas not black and white. I really enjoyed this book and look forward to more in the future from this author.
Review by @sherimichelle1
https://itsybitsybookbits.com/wp-content/uploads/2018/09/41350827_531011120653197_5005389383935721472_n-1030x381.jpg
0
0
Sheri Schrader
https://itsybitsybookbits.com/wp-content/uploads/2018/09/41350827_531011120653197_5005389383935721472_n-1030x381.jpg
Sheri Schrader
2019-03-22 14:55:49
2019-03-22 15:07:25
Linked: Can Empathy Save the United Terrestrial Democracy? by Gaia B. Amman - Review by Sheri Schrader