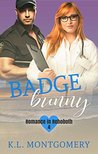 Badge Bunny by K.L. Montgomery
My rating: 5 of 5 stars
Badge Bunny (Romance in Rehoboth Book 4) by K.L. Montgomery
5 Stars
I'm not positive but Im thinking that this is my favorite so far in the Rehoboth series. Its hard because I have loved every one of them but this one was special I think. I loved this book and Chris and Brynne were awesome and I loved their story.
I love the way they started, I loved the way they interacted from that encounter to all of the scenes that followed. Chris's secret was completely unique and not something I would have ever guessed and I loved it. I loved how others from the previous books were right there through a lot of it as well. One of my favorite parts of the story was Brynnes brother Ben and his wife Jamie and sweet little Harmony, that whole story made me smile.
The twists and turns were placed perfectly as usual and the message of facing your fears head on was very clearly described and had me on the edge of my seat for a bit. I wanted to smack both of them a few times, they made me so mad, but they also made me laugh more than once. The scene with him speaking about his dolphin had me rolling.
Once again this author has done nothing but make me fall more in love with her writing, her stories are smooth and flow so easily and before you know it you are done and are left always wanting more.
I highly recommend this book, this whole series which you don't absolutely have to read in order but I highly suggest you do because its simply awesome and I can't even recommend this author enough…She is hands down one of my absolute favorites and an automatic one click.
Loved it!!
Review by @debikircher
https://itsybitsybookbits.com/wp-content/uploads/2020/07/IBBB_2020_logo_sq.png
0
0
Debi Kircher
https://itsybitsybookbits.com/wp-content/uploads/2020/07/IBBB_2020_logo_sq.png
Debi Kircher
2018-08-24 16:24:35
2018-10-03 17:21:51
Badge Bunny (Romance in Rehoboth Book 4) by K.L. Montgomery – Review by Debi Kircher