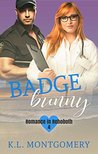 Badge Bunny by K.L. Montgomery
My rating: 5 of 5 stars
Badge Bunny by K. L. Montgomery is a five star novel. I love when I get to read a series like this. Being the fourth book in the series, it is typically safe to assume you would miss something without reading the others. Although there are tie-ins and deeper connections to minor characters, this could be read as a standalone. I have thoroughly enjoyed every book I have read by this author. Her writing style is witty, charming, and hilarious. I love the back and forth banter that occurs between the characters and their love hate relationship. Brynne is the cute doctor in the emergency room. She is always chasing after the officers that bring in her patients. But after this last one, she is ready to swear off the badge and not date another officer ever again. Then Chris shows up. She is not impressed and only ups her resolve to find some other kind of man to date. But even though she seems to despise everything about him, she can't get Chris out of her mind and he somehow just keeps showing up in unlikely situations. Then she realizes that maybe she shouldn't swear off the badge just yet. Maybe one more cop wouldn't hurt.
Review by @julie-lounello
https://itsybitsybookbits.com/wp-content/uploads/2018/09/41350827_531011120653197_5005389383935721472_n-1030x381.jpg
0
0
Julie Lounello
https://itsybitsybookbits.com/wp-content/uploads/2018/09/41350827_531011120653197_5005389383935721472_n-1030x381.jpg
Julie Lounello
2018-08-26 23:19:08
2018-10-01 19:06:48
Badge Bunny (Romance in Rehoboth) by K. L. Montgomery - Review by Julie Lounello