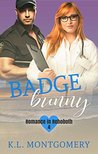 Badge Bunny by K.L. Montgomery
My rating: 5 of 5 stars
Badge Bunny by K.L. Montgomery a five-star read that will make you hop. This is book four in the Romance in Rehoboth series and my favourite of the whole series, the can be read as stand-alone but characters do pop up in each other's stories, I have read as a series and enjoyed it as such. This book was sublime, I loved how Chris Everson the dark and broody Trooper who has a way with words that melt underwear as well as much else has this whole other side to him, he is such a playboy that I was convinced his secret was that he was a male entertainer, he just has the confidence for it. Needless to say, it's not that but it will make your heart warm. Its not just him that isn't what you expect on the surface, Brynne Miller is also not what she seems, a studious doctor on the surface, and a metal head badge bunny underneath, but just like deaf leppard she can change her spots, just because police officers are all she meets in her job, doesn't mean she has to date them does it? This story will keep you hooked as they fight the drama and get ready for a wedding, will it all work in the end? You need to read the story to find out.
Review by @saraoxo
https://itsybitsybookbits.com/wp-content/uploads/2019/09/IBBB_promotions_logo-01-300x180.png
0
0
Sara Oxton
https://itsybitsybookbits.com/wp-content/uploads/2019/09/IBBB_promotions_logo-01-300x180.png
Sara Oxton
2018-09-07 13:21:07
2018-10-07 13:21:43
Badge Bunny (Romance in Rehoboth #4) by K.L. Montgomery - Review by Sara Oxton