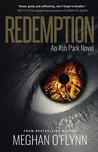 Redemption by Meghan O'Flynn
My rating: 5 of 5 stars
Redemption by Meghan O'Flynn is a five star novel. This is the fifth and last installment of the Ash Park series. With Ash Park being a not so nice neighborhood of Detroit, you can imagine lots of bad things happen there. Petrosky is a detective and ready to move on to the next world. He has lost so much and he sees so much hurt and pain everyday that it is getting harder and harder to deal with. Now his only friend is moving away with her kids. He guesses it will be ok though because he doesn't really feel like socializing anymore anyway. When his cases take a turn and start blurring lines between his daughter's case and these new ones, he knows he needs to stick around to solve the case of his daughter. How could this guy still be out there lurking and killing without him figuring out who it is and capturing him. A captivating and riveting story that will keep you turning the pages all the way until the end.
Review by @julie-lounello
https://itsybitsybookbits.com/wp-content/uploads/2020/05/group-blue-01-April-2020-300x177.png
0
0
Julie Lounello
https://itsybitsybookbits.com/wp-content/uploads/2020/05/group-blue-01-April-2020-300x177.png
Julie Lounello
2018-10-23 21:54:16
2018-10-24 07:10:05
Redemption (An Ash Park Novel) – Review by Julie Lounello