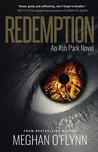 Redemption by Meghan O'Flynn
My rating: 4 of 5 stars
Redemption An Ash Park Novel by Meghan O'Flynn
4 Stars!!!!
I must say that even though it isn't my go to genre I was still as impressed with this book as I was
with the first. I found that the author has a unique way of writing that the books just flow one
right after the other. There is a constant that brings each book together. I was as hooked from page
one of this book five as I was from book one.
This book really brings things full circle as Petrosky really has to battle his inner demons and
work his way through the case. I really felt my heart strings tugging for him. I like how the author
was able to make it so that you had bated breath to see how things would turn out. Petrosky really
has his redemption in this final book. I really would like to read more from this author in the future
and even though it isn't my go to genre I will be reading this series again as I am sure that as with
most you tend to find details and things that you missed the first time.
Reviewed by @caraleeloonat
View all my reviews
https://itsybitsybookbits.com/wp-content/uploads/2020/07/IBBB_2020_logo_sq.png
0
0
Caralee Loonat
https://itsybitsybookbits.com/wp-content/uploads/2020/07/IBBB_2020_logo_sq.png
Caralee Loonat
2018-10-19 04:39:51
2018-10-19 17:22:49
Redemption: An Ash Park Novel (Volume 5) by Meghan O'Flynn -Review by Caralee Loonat