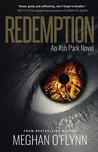 Redemption by Meghan O'Flynn
My rating: 5 of 5 stars
This series just keeps getting better and better. There are surprises at every turn. This book is well written and just as exciting as the rest of the series. It is also just as twisted and gruesome as the other books as well.
Detective Petrosky is an amazing detective, father and person. He is a human. He has made mistakes from the beginning of book one. But he is human. He loves with his whole heart, but he won't tell you that. He's tough on the outside and even tougher on the inside. I love that he is a larger type man, with common health conditions. Doesn't everyone love granola bars!?
I also love the return of certain characters from previous books, especially Shannon Morrison. Watching her change from the hard as nails prosecutor into a loving and caring mother was an interesting twist. Knowing that some of the characters get closure, if not their own version of a happily ever after, makes this book a fantastic finish for this series.
I highly recommend this book as the perfect conclusion to the Ash Park series.
review by @shannonlovesbooks
https://itsybitsybookbits.com/wp-content/uploads/2020/07/IBBB_2020_logo_sq.png
0
0
Shannon Fowler
https://itsybitsybookbits.com/wp-content/uploads/2020/07/IBBB_2020_logo_sq.png
Shannon Fowler
2018-11-01 08:24:21
2018-11-01 20:26:56
Redemption (An Ash Park, #5) by Meghan O'Flynn – Review by Shannon Fowler