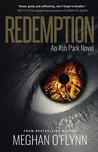 Redemption by Meghan O'Flynn
My rating: 5 of 5 stars
WOW! What a way to end a series! Redemption is Book 5 in the Ash Park Series by Meghan O'Flynn. I wasn't sure what to expect from this book seeing as though the last one left you a little worried. Detective Ed Petrosky has lost his partner and the son he never had. Now that Shannon is moving on with the kids, what does he do? That is the constant question that keeps remaining throughout the entire book. However, in true Meghan O'Flynn style, she has a twist for us. A new partner for Petrosky! And this one is a loop that you did not see coming! I'm not going to go in detail because I want you to be surprised but let's just say Petrosky is way out of his league on this one! But you will definitely love it! I know I did. I absolutely loved this book as well as I did the others! I would definitely read this series in order because it ends up being one ongoing story. This author has really impressed me with her writing style and raw nature that you do not tend to see very often! I'm glad this series has come to my attention and I truly cannot wait to read more from her! It isn't easy writing murder mystery and to do it so well and to be able to keep one's attention through 5 books is amazing! Well done Ms. O'Flynn! You have done this series and this genre proud!
Review by @vegasdaisie
REDEMPTION (An Ash Park Novel – Book 5)
By
Meghan O'Flynn
https://itsybitsybookbits.com/wp-content/uploads/2020/07/IBBB_2020_logo_sq.png
0
0
Melissa Agena
https://itsybitsybookbits.com/wp-content/uploads/2020/07/IBBB_2020_logo_sq.png
Melissa Agena
2018-10-31 00:42:20
2018-10-31 09:43:34
Redemption (An Ash Park Novel – Book 5) By Meghan O'Flynn – Review By Melissa Agena