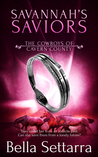 Savannah's Saviors by Bella Settarra
My rating: 5 of 5 stars
Savannah's Saviors (The Cowboys of Cavern County Book 5) By Bella Settarra. Oh how this book immediately pulled me in and I couldn't shake it until the very end. This is the first book I've read in the series and by this author, so I read this as a standalone with only a bit of confusion. But it's not a completely lost on what's going on in the book, it's just that nagging feeling like there's a story you're missing and need to know more about. You can read it and enjoy it fully alone but I'll definitely be going back and reading the rest because I loved this one. Savannah's character was just the right mix of strong and broken down. I love stories that have the characters having a difficult past they break away from. Tom and Greg are so dreamy and will have you wishing you weren't just reading a book. But they are also sweet and protective. I loved everything about this book it's well written and paced nicely. It has its steamy parts but it's more than just those, it's a story about finding your way out of tough times and finding your true path. I'm looking forward to reading more of these stories. I'm giving this book a five star review and highly recommend it.
https://itsybitsybookbits.com/wp-content/uploads/2020/05/group-blue-01-April-2020-300x177.png
0
0
Katie Kearney
https://itsybitsybookbits.com/wp-content/uploads/2020/05/group-blue-01-April-2020-300x177.png
Katie Kearney
2018-10-09 20:59:56
2018-10-10 07:45:17
Savannah's Saviors (The Cowboys of Cavern County Book 5) By Bella Settarra – Review by Katie Kearney