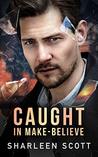 Caught in Make-Believe by Sharleen Scott
My rating: 4 of 5 stars
Caught in Make-Believe: The Caught Series, Book 3 by Sharleen Scott
4 out of 5 stars
This 3rd installment in the Caught series is a fantastic book. It can be read as a standalone, however, you would gain a lot of insight and background knowledge from past characters, and relationships if you read the previous 2 books. While it does not take away from Caught in Make-Believe, I am a firm believer, as a reader, that you should read a series from Book 1. Samantha and Jace are our two main characters. Samantha is a woman who is lucky in business but unlucky in love. Her most recent relationship ended in such a terrible way that she is on the verge of swearing off men. In walks Jace, an investigative journalists who uncovered a massive story that sent him into hiding for 5 years.
Jace does not want to put Samantha in danger and Samantha knows that Jace's stay will most likely be temporary, but they are drawn together in a way that is both explosive and necessary. But Jace's past catches up with him and he soon figures out that 5 years away, is not nearly enough to escape the dangers that are after him.
I loved this story. The suspense combined with the romance made for a perfect book to curl up and read on a rainy friday night. The sentence structures were full and complete thoughts and the paragraphs flowed from to the other. I never felt rushed, nor did I feel that I was not given enough information during this book. Highly recommended!
Reviewed by @kgregory
https://itsybitsybookbits.com/wp-content/uploads/2020/07/IBBB_2020_logo_sq.png
0
0
Krystal Gregory
https://itsybitsybookbits.com/wp-content/uploads/2020/07/IBBB_2020_logo_sq.png
Krystal Gregory
2018-11-10 01:26:53
2018-11-10 13:31:01
Caught in Make-Believe (The Caught Series, Book 3) by Sharleen Scott – Review by Krystal Gregory