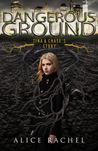 Dangerous Ground: Tina and Chase's Story by Alice Rachel
My rating: 4 of 5 stars
Dangerous Ground: Tina and Chase's Story, Under Ground Book 5 by Alice Rachel
4 out of 5 Stars
This book is a heartbreaking and sad story. The emotional pain in this book got me right in the feels many, many times and I was on the verge of tears. The Sterilization Law is going into effect and Chase, is worried, not only for himself, but for his girlfriend, Mariana. The Sterilization Law is exactly what it sounds like it is, and is just as terrible as it sounds like it is. Chase is determined to do everything in his power to protect her, and he is finding out, that it might not be enough.
Tina, is the privileged daughter of the state officer. She has been in the lap of luxury for all of her life, but when she meets Chase and the Sterilization Law is passed, she is called into action. How can the government force the people into the sterilization? Tina goes undercover, so to speak, to tear the system apart.
You will cry. This book contains many sensitive subjects such as suicidal idealism and alcoholism. If you are tender hearted, this book may not be for you, for the others, this book was an emotional read, but a great one!
https://itsybitsybookbits.com/wp-content/uploads/2020/07/IBBB_2020_logo_sq.png
0
0
Krystal Gregory
https://itsybitsybookbits.com/wp-content/uploads/2020/07/IBBB_2020_logo_sq.png
Krystal Gregory
2018-11-27 07:44:48
2018-11-27 19:54:32
Dangerous Ground: Tina and Chase's Story, Under Ground Book 5 by Alice Rachel – Review by Krystal Gregory