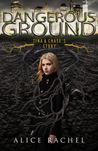 Dangerous Ground: Tina and Chase's Story by Alice Rachel
My rating: 5 of 5 stars
I know that the author clearly states in the blurb to not read this book as a standalone, but I know that some people don't read those warnings seriously sometimes. So with the risk of sounding like a broken record, DO NOT READ THIS BOOK WITHOUT READING THE OTHER BOOKS IN THE SERIES IN THE RECCOMENDED READING ORDER! I can 100% promise you that you will be lost as all get out, and this is not one you want to miss. If you like the Handmaids Tale, dystopian novels, or movies that are scarily close to the reality that we are currently living in, this is the series for you to pick up now. Go one-click right now the whole thing because I can promise you that once you start you won't be able to stop and will want to devour this entire series as fast as you can.
Alice Rachel really has the gift when it comes to writing with feeling. I always find myself thinking, often aloud, and feeling the characters feelings as if they were my own. Unfortunately, this series happens to touch very close to home. Underground is set in a society that is one we just don't want to see for ourselves. Separated races, social classes, genders, and so much more. Laws and regulations that affect our bodies as women etc. Sounds a bit close to home doesn't it though? Kind of like the current political atmosphere we are living in. Really makes you think. Dangerous Ground is the story of Tina and Chase and the way they deal with the difficulties they face every day. I am always more blown away with each book than I was with the last, a hard task to accomplish so I can't wait to get my hands on the next in the series! Thanks for another great read Alice Rachel!
Review by @lizaileen
https://itsybitsybookbits.com/wp-content/uploads/2020/07/IBBB_2020_logo_sq.png
0
0
Liz Vrchota
https://itsybitsybookbits.com/wp-content/uploads/2020/07/IBBB_2020_logo_sq.png
Liz Vrchota
2018-11-28 13:48:09
2018-11-28 14:24:31
DANGEROUS GROUND: Tina and Chase's Story (Under Ground Book 5) by Alice Rachel ~ Review by Liz Vrchota