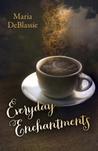 Everyday Enchantments by Maria F. DeBlassie
My rating: 4 of 5 stars
This was a different take on the 'self-help' novel approach. I found it to be quite meditative. Everyday Enchantments encourages the reader to take our simplest of mundane tasks, the ones that often drag us through the dirt the most, and teaches one to find the pleasures in it. Simply stopping and smelling the roses a bit more. Too often we get swept up in life. We wake up, do the chores, get the kids to school, work, pay the bills, do more chores, put the kids to bed, wash rinse repeat. Marie DeBlassie encourages us in Everyday Enchantments to find that joy in the small things once again. Whether it be reading our favorite books, or finding a new one, cooking something yummy, walks in the rain after dark, the possibilities are endless. The idea is we need to find time to find the magic in our lives. It is always there we just ignore it. Normally non-fictional books aren't a strong read for me or much above a three star rating but this one I would give a solid four stars.
Review by @lizaileen
View all my reviews
https://itsybitsybookbits.com/wp-content/uploads/2020/05/group-blue-01-April-2020-300x177.png
0
0
Liz Vrchota
https://itsybitsybookbits.com/wp-content/uploads/2020/05/group-blue-01-April-2020-300x177.png
Liz Vrchota
2018-11-17 02:58:44
2018-11-17 15:33:22
Everyday Enchantments: Musings on Ordinary Magic & Daily Conjurings by Maria DeBlassie – Review by Liz Vrchota