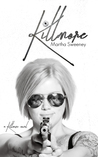 Killmore by Martha Sweeney
My rating: 5 of 5 stars
Killmore by Martha Sweeney is a five star novel. I love how we are thrown into the story right from the get go. Some stories take a while to get the story across but this one starts of right from the start with action packed adventure. Lori got into the thick of things with a Mexican crime lord. When the feds get to her and want her to help them, she agrees because she knows she can't be a part of this life anymore. Without any trust in her new witness protection, she has to stay on full alert and keep on training so she can be as strong as she needs to be in order to keep herself safe. Just because they are the feds, doesn't mean they will be able to always be there to keep her safe. I cannot wait to read book #2!
Review by @julie-lounello
https://itsybitsybookbits.com/wp-content/uploads/2020/07/IBBB_2020_logo_sq.png
0
0
Julie Lounello
https://itsybitsybookbits.com/wp-content/uploads/2020/07/IBBB_2020_logo_sq.png
Julie Lounello
2018-11-27 23:01:19
2018-11-28 09:41:00
Killmore by Martha Sweeney – Review by Julie Lounello