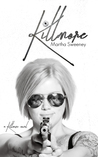 Killmore by Martha Sweeney
My rating: 5 of 5 stars
Killmore by Martha Sweeney is part one of a two part series. All I can say is wow. How she dealt with what she did for as long as she did was amazing, the it all hits the fan. Fast forward in time to her life now, Laurie has moved on and enjoying life with her dogs Cain and Mabel (loved their names). But is the past really ever truly dead and gone?
I have a friend at work that I will talk books with from time to time. She is quite picky over the years I have learned what she likes. I recommended this book to her before I was half way through it and I can't wait to see what she thinks of it.
There are things I want to mention but they could be considered spoilers so I won't mention them. I will say that I cannot wait to get started on the next book.
https://itsybitsybookbits.com/wp-content/uploads/2020/07/IBBB_2020_logo_sq.png
0
0
Robin Rankin
https://itsybitsybookbits.com/wp-content/uploads/2020/07/IBBB_2020_logo_sq.png
Robin Rankin
2018-11-28 04:41:50
2018-11-28 09:43:27
Killmore by Martha Sweeney – Review by Robin Rankin