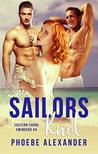 Sailors Knot by Phoebe Alexander
My rating: 5 of 5 stars
Sailors Knot (Eastern Shore Swingers Book 4)
Phoebe Alexander
5 out of 5 stars
Sailors Knot is the fourth book in Phoebe Alexander's Eastern Shore Swingers series and could be read as a stand alone book without any confusion or taking away from the storyline as can every other book in the series. I do recommend reading the entire series because it's honestly that good!
I have to say each book I've read in the series has been better than the last, and that says a lot because I have loved each book thus far. Sailor's Knot is definitely my favorite though, I have been waiting to hear more about Casey and this doesn't disappoint.
I love the way the book was written giving us a glimpse into Casey's past and bringing us back to the present day and giving us every emotion along the way. While the story grabbed me from the very beginning and kept me enthralled throughout, I really loved the last few chapters and the way the book ended. I can officially say I can't wait to see what more Phoebe Alexander has for us with the Eastern Shore Swingers series, it will be hard to beat Casey's story.
Review by @fnbates
https://itsybitsybookbits.com/wp-content/uploads/2020/05/group-blue-01-April-2020-300x177.png
0
0
Felicia Bates
https://itsybitsybookbits.com/wp-content/uploads/2020/05/group-blue-01-April-2020-300x177.png
Felicia Bates
2018-11-04 11:59:15
2018-11-04 14:39:49
Sailors Knot (Eastern Shore Swingers Book 4) by Phoebe Alexander – Review By Felicia Bates