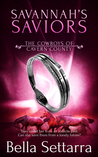 Savannah's Saviors by Bella Settarra
My rating: 5 of 5 stars
Savannah's Saviors was a great steamy 5 star read.
You get pulled in right from the beginning when Savannah is thrown out of her home on a rainy night with nothing, she eventually finds herself in the presence of Greg and Tom. They were definitely surprised to see her in the middle of nowhere and decide to bring her home with them.
Greg and Tom are intrigued and attracted to their visitor. They start to sense that she is in some sort of trouble, what could it be? These two were so sweet with Savannah it really tugged at my heartstrings. As they discover more about her they are even more attentive.
There is so much more to this great read. And I have to say what comes around goes around when it comes to Savannah's dirt ball husband. The secondary characters were great, I really liked Mrs. Hodges. This is my first read in the series and I wasn't lost at all, however I do plan to get caught up. If your looking for a great page turning read, 1-click and get started today.
Reviewed by @mab54615
View all my reviews
https://itsybitsybookbits.com/wp-content/uploads/2020/07/IBBB_2020_logo_sq.png
0
0
Michelle Austin
https://itsybitsybookbits.com/wp-content/uploads/2020/07/IBBB_2020_logo_sq.png
Michelle Austin
2018-11-12 09:39:36
2018-11-13 08:28:52
Savannah's Saviors (Cowboys of Cavern County #5) by Bella Settarra – Review by Michelle Austin