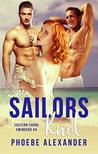 Sailors Knot by Phoebe Alexander
My rating: 5 of 5 stars
Sailors Knot ( Eastern Shore Swingers,#4 )
By Phoebe Alexander
5/5 Stars
Phoebe does it again… once you start reading, you will NOT be able to put it down!! I personally, tuned everything out and read this entire book within a couple hours! Adulting got put on hold for a bit, I had to see what was gonna happen next!!
I'm a huge fan on the entire series!! Yes, I do realize it may not be for everyone! It's soo much more than sexual preference(s) and/or lifestyles. Each book tells a unique and entertaining story, from beginning to end!!
This story will pull at your heartstrings and make you feel so many different emotions!! Heartache, loss, love,desire, passion, and so much more ! I do believe this is my favorite of the series so far! It's full of depth and passion to the brim!! Casey is unbelievably strong and doesn't give up… she is a fighter in many different ways!! Another amazing job, Phoebe! I can't wait to see what's next !!
https://itsybitsybookbits.com/wp-content/uploads/2020/07/IBBB_2020_logo_sq.png
0
0
Nicole Alamillo
https://itsybitsybookbits.com/wp-content/uploads/2020/07/IBBB_2020_logo_sq.png
Nicole Alamillo
2018-11-12 09:01:16
2018-11-12 13:18:51
Sailors Knot ( Eastern Shore Swingers,#4 ) by Phoebe Alexander – Review By Nicole Alamillo