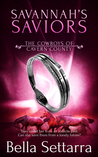 Savannah's Saviors by Bella Settarra
My rating: 4 of 5 stars
Savannah's Saviors (The Cowboys Of Cavern County Book 5) by Bella Settarra. This is the 5th book in the Cowboy Series but it can be read as a standalone. This is the story of Savannah Edgerton who is in a horribly abusive relationship and one night her husband kicks her out in the dark. After nearly running over Savannah, Tom Rankin & Greg Jackson take her in even though they don't believe the story of her looking for her dog. She has bruises inside and out and they soon find out she is very closed off. As they stay together and end up getting to know each other better they begin to have feelings for each other. Will Savannah be able to trust anyone again especially when she finds out one of the men she's slowly starting to trust has a criminal record. The is a story about second chances and trust. It's a sweet and emotional story about learning to love again.
https://itsybitsybookbits.com/wp-content/uploads/2020/07/IBBB_2020_logo_sq.png
0
0
Tausha Treadway
https://itsybitsybookbits.com/wp-content/uploads/2020/07/IBBB_2020_logo_sq.png
Tausha Treadway
2018-11-12 13:20:46
2018-11-12 14:15:46
Savannah's Saviors ( The Cowboys of Cavern County Book 5) by Bella Settarra – Review by Tausha Treadway