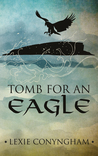 Tomb for an Eagle by Lexie Conyngham
My rating: 4 of 5 stars
Tomb for an Eagle was an interesting 4 star read and book one in the Orkneyinga Murders series.
This book takes us back to the viking era, we get suspense, murder and so much more. I like the kind of reads that keep you wondering who could be the killer and this one didn't disappoint.
Once I started I didn't want to stop. I have to admit I did have a little difficulty understanding some things because of the viking language which made it authentic.
There are several twists and turns The secondary characters added a great element to the story. The author does a great job with her writing and pulls you right in with all the detail. This is my first read by Lexie and I look forward to reading more from her.
Reviewed by @mab54615
View all my reviews
https://itsybitsybookbits.com/wp-content/uploads/2018/09/41350827_531011120653197_5005389383935721472_n-1030x381.jpg
0
0
Michelle Austin
https://itsybitsybookbits.com/wp-content/uploads/2018/09/41350827_531011120653197_5005389383935721472_n-1030x381.jpg
Michelle Austin
2018-11-07 09:17:25
2018-11-08 08:57:03
Tomb for an Eagle (Orkneyinga Murders, #1) by Lexie Conyngham - Review by Michelle Austin