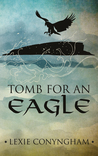 Tomb for an Eagle by Lexie Conyngham
My rating: 4 of 5 stars
Lexie Conyngham's Tomb for an Eagle is the first book in the Orkneyinga Murders series. This is a tale rife of mystery and suspense. Set in the past, it is eloquently written to align with the historical times. The author uses their creative writing talent to engage the reader in the story and maintain their interest page after page until finally you come to the final pages. I felt that the characters were flawless in their portrayal and fell within the story effortless creating a seamless experience in reading. Normally I may not have read a book within this genre, but something about it drew me in and I don't regret it. I look forward to reading future books in this series by Lexie Conyngham.
Reviewed by @hbahm
https://itsybitsybookbits.com/wp-content/uploads/2020/07/IBBB_2020_logo_sq.png
0
0
Heather Bahm
https://itsybitsybookbits.com/wp-content/uploads/2020/07/IBBB_2020_logo_sq.png
Heather Bahm
2018-11-08 06:58:03
2018-11-08 19:06:15
Tomb For An Eagle (Orkneyinga Murders Book 1) by Lexie Conyngham – Review by Heather Bahm