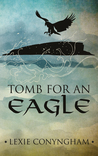 Tomb for an Eagle by Lexie Conyngham
My rating: 4 of 5 stars
Well this was a bit of an interesting departure from the typical murder mysteries that I would normally find myself reading. Lexie Conyngham was a new author to me when I chose Tomb for an Eagle. I loved the cover and the blurb so decided to give it a go. I was glad that I did, as this was a new take. I would say it was a bit of a difficult read. The tools are there to help you decipher some things though so I was grateful for that. I don't know if it would be for everyone though. There is some difficult names as this is set in Scotland and has some pretty crazy words to learn. In the back there is a guide to help you with this. Thanks Lexie Conyngham for that! I also found it a bit complicated with the details and such to keep track of everything so there was another thing that confused me. Otherwise this was gripping tale that I thoroughly enjoyed trying to figure out. I was kept on my toes with the guessing, which is ultimately what you want in a good murder mystery. I look forward to seeing what will come next in the series.
Review by @lizaileen
View all my reviews
http://itsybitsybookbits.com/wp-content/uploads/2020/02/group-01-01-300x183.png
0
0
Liz Vrchota
http://itsybitsybookbits.com/wp-content/uploads/2020/02/group-01-01-300x183.png
Liz Vrchota
2018-11-05 11:16:16
2018-11-05 12:22:52
Tomb for an Eagle (Orkneyinga Murders Book 1) by Lexie Conyngham ~ Review by Liz Vrchota