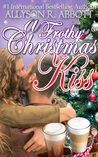 A Frothy Christmas Kiss by Allyson R. Abbott
My rating: 5 of 5 stars
A Frothy Kiss is the fourth book in Allyson R. Abbott's Christmas Kiss series and I think it is currently the last one and what a last one it was! I absolutely loved the sweet story of Kat and Dan and their cupid Brian aka Bagpuss aka Damned Cat (you got to read the book yourself to know what I mean!). You can read this story as a standalone! Make yourself a cup of good coffee or if you are like Dan and Kat and are into fancy coffee types then make something more daring and enjoy the couple of hours you spend with these two and co!
I loved the small town and the quaint coffee shop and how it all came together in one beautiful 'drink' that leaves you craving for more! The chemistry, the sweetness, the misunderstandings, the growing up that we all need to do and the benefits we reap if we do so and the beauty of it all!
Thank you Dear Writer for these four beautiful Christmas stories that leave us feeling warm and fuzzy and wishing for some Christmas love for ourselves!
https://itsybitsybookbits.com/wp-content/uploads/2020/05/group-blue-01-April-2020-300x177.png
0
0
Jana Teppih
https://itsybitsybookbits.com/wp-content/uploads/2020/05/group-blue-01-April-2020-300x177.png
Jana Teppih
2018-12-23 19:02:47
2018-12-23 19:53:16
A Frothy Christmas Kiss by Allyson R. Abbott – Review by Jana Teppih