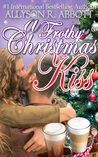 A Frothy Christmas Kiss by Allyson R. Abbott
My rating: 5 of 5 stars
A Frothy Christmas Kiss from Allyson R. Abbott was in Ms Abbott fashion a sweet, romantic read.
Kat loves everything about coffee so when she find a new coffee house named Have Bean she must try it. When she walks in and meets the owner Dan she instantly wants to know more about him.
Dan and Kat flirt with each other and then Kat meets Becky who also works at the coffee house. Kat seems to think Dan and Becky are married and tries to stop the attraction she has towards Dan which is unsuccessful.
There is a stray cat named Brian who spends his day at the coffee shop. Only he's not really a stray after all. Kat follows him one night and morning to see where he goes when he's not at have bean.
Kat ends up working part time at have bean and becomes friends with Becky and Dan. Will Kat ever find out the truth about Dan and Becky's relationship? What will happen when she finds out how they know each other so well.
Sweet, happy quick read you dont want to miss out on
review by @xchellex
https://itsybitsybookbits.com/wp-content/uploads/2020/02/group-01-01-300x183.png
0
0
Michelle Mulvey
https://itsybitsybookbits.com/wp-content/uploads/2020/02/group-01-01-300x183.png
Michelle Mulvey
2018-12-23 19:21:32
2018-12-23 20:28:44
A Frothy Christmas Kiss by Allyson R. Abbott - Review by Michelle Mulvey