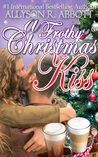 A Frothy Christmas Kiss by Allyson R. Abbott
My rating: 4 of 5 stars
A Frothy Christmas Kiss by Allyson R. Abbott is the fourth book in her Christmas Kiss series and it just couldn't get any better than this. Following the story of Kat and Dan, and their mutual love of coffee, I feel right into this story and loved every minute of it. When Kat finds this great kitschy little coffee shop she feels right at home, especially once she meets to handsome owner of said coffee shop. The immediate attraction and connection leads to allot of flirtatious moves and an undeniable pull toward each other. When she learns that Dan has baggage at home, she will have to be willing to take a leap of faith on her feelings for Dan in order to see if this relationship is going to be worth it. Dan wants to make things work with Kat, but he needs to be friends with her first because of his home life. As soon as Kat starts to work at the coffee shop, Dan finds its harder and harder to stay away from her. When her past comes blowing into the shop in the form of her ex it will take Dan aback but will make him have to push his feelings to the limit if he wants to win the girl. Will this Christmas season be the last that either of them has to be alone or will they be better as friends with a mutual love of coffee? Abbott is swiftly becoming a favorite author of mine to read, as this series has really pulled me into the Christmas spirit. While each of this series can be read as a stand-alone book, I highly recommend picking up the whole series as you won't be able to stop at just one read. I can't wait to see what Abbott brings to her readers next!
https://itsybitsybookbits.com/wp-content/uploads/2020/07/IBBB_2020_logo_sq.png
0
0
Ashleigh Harrington
https://itsybitsybookbits.com/wp-content/uploads/2020/07/IBBB_2020_logo_sq.png
Ashleigh Harrington
2018-12-26 01:23:10
2018-12-26 08:00:43
A Frothy Christmas Kiss (Christmas Kiss Series, book 4) by Allyson R. Abbott – Review by Ashleigh Harrington