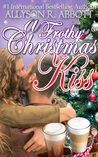 A Frothy Christmas Kiss by Allyson R. Abbott
My rating: 4 of 5 stars
Can't say it enough…this is a Christmas read must! A Frothy Christmas Kiss is book 4 in the Christmas Kiss Series by Allyson R. Abbott. This story follows Kat where she has just moved to this town in order to escape her ex and secretly her best friend. Her best friend is one of those best friends who thinks that they should be together. Her best friend, coincidently, is a man. He keeps pushing her and pushing her to try a relationship out together. She on the other hand just doesn't feel it. Now, from the time she was a little girl, coffee was a big part of her life. So essentially, she absolutely adores the stuff. She finds this coffee shop that she absolutely falls in love with. Along with the coffee shop comes a super hot owner! So between lusting after him and fighting off her best friend…she has got her hands full. However, Mr. Coffee Shop owner (Dan) is a bit of a mystery that she tries to figure out. I loved this book and absolutely adore this series. I am so glad I was able to read it. This story feels like a hallmark movie waiting to happen! I love how the author pulls you in and makes you fall in love with the characters. This is the same with all the other books as well. I can't wait to read more from this author! You won't be disappointed.
Review by @vegasdaisie
https://itsybitsybookbits.com/wp-content/uploads/2019/09/IBBB_promotions_logo-01-300x180.png
0
0
Melissa Agena
https://itsybitsybookbits.com/wp-content/uploads/2019/09/IBBB_promotions_logo-01-300x180.png
Melissa Agena
2018-12-24 01:24:27
2018-12-24 06:53:18
A FROTHY CHRISTMAS KISS (CHRISTMAS KISS SERIES – BOOK 4) BY ALLYSON R. ABBOTT - REVIEW BY MELISSA AGENA