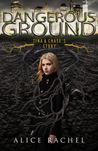 Dangerous Ground: Tina and Chase's Story by Alice Rachel
My rating: 4 of 5 stars
In a world of uncertainty, we can be certain that Alice Rachel will bring us another story in her Under Ground series that makes us want to change our negative behavior and keep on being positive.
Chase and Tina live different lives, one is upper class while the other lower class. However, they are still people and they both care about others. This story takes us through their struggles and with Rachel's writing style it feels like we are right there with them.
This story is a part of a series that must be read in order. I know this for a fact as I read some of this series out of order and had quite the headache, lol, trying to figure everything out. Reading in order makes so much more sense! I look forward to reading the next in this series.
https://itsybitsybookbits.com/wp-content/uploads/2020/07/IBBB_2020_logo_sq.png
0
0
Shannon Fowler
https://itsybitsybookbits.com/wp-content/uploads/2020/07/IBBB_2020_logo_sq.png
Shannon Fowler
2018-12-01 14:24:26
2018-12-01 14:24:26
Dangerous Ground: Tina and Chase's Story by Alice Rachel – Review by Shannon Fowler