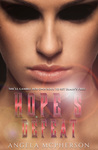 Hope's Defeat by Angela McPherson
My rating: 5 of 5 stars
Hope's Defeat is book three in the Fated series by Angela McPherson. It continues with Trinity, Blain and crew fighting to save the world and mankind. This story is so far from what I read on a regular basis, it makes my heart happy to read each word. The dramatic and ever present danger and violence just adds to the appeal and I always have to read this author's work in one go.
As usual, the writing is so captivating, so ethereal, it draws a reader into this world and the experience is so unique, you are left wondering if that really happened. The lines are blurred between fantasy and reality. The escape into these stories is entire and solid. Nothing much else exists except these characters and their journey. Oh, and coffee to heighten the experience even more. Reading this story made me really happy and it is a book that is well worth a reread. 5 stars.
https://itsybitsybookbits.com/wp-content/uploads/2020/07/IBBB_2020_logo_sq.png
0
0
Tracy Wilkin
https://itsybitsybookbits.com/wp-content/uploads/2020/07/IBBB_2020_logo_sq.png
Tracy Wilkin
2018-12-30 00:14:21
2018-12-30 07:12:53
Hope's Defeat (Fated Book 3) by Angela McPherson – Review by Tracy Wilkin